Indy's Diary journals the first six years of an undeterred young girl, India "Indy" Rose Eaton who has endured many surgeries to correct her leg bone which was affected by a genetic disorder - Neurofibromatosis Type 1 (NF1).
"If anyone in the world is brave, I am one of them. You should know that having surgery is nothing to be scared about."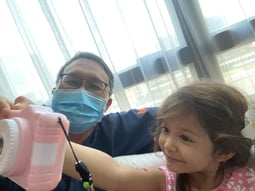 As Indy quietly anticipates the prospects of making new friends and confronting curious queries about her leg, she puts up a strong front as all brave children do.
"What would my friends say?"
"Do I worry if people ask me about my leg?"
"... I really don't know where to start!"
Retold by Josephyne Ho, Indy's Diary is a good read for all who seek strength and encouragement when faced with life challenges.