It was around this time that I read for the first time 'The Boy Who Was Raised as a Dog' by the child psychiatrist, Bruce D. Perry. A tough read in places, Dr Perry tells the stories of individuals impacted by traumatic experiences in childhood. He explains what happens to a child's brain when impacted by severe stress or trauma, and how his non-medicinal interventions helped clients to ease their pain and become emotionally healthy adults.
One story stuck with me about a foster mother who would cradle and rock the children in her care to soothe them, even long past infancy when they were six or seven years old. This woman had no formal clinical experience or training in child development. She was using her intuition and instinct to care for her wounded 'babies' and the results were profound. Dr Perry theorised that children's brains could be healed in this way. Through authentic human connection with a caregiver meeting them at their emotional level.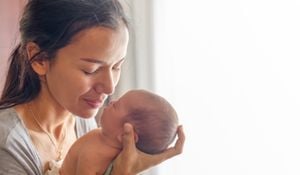 Suddenly, there was clarity. The noise was silenced. For our children to thrive, we didn't need all the websites and guides and blogs and online courses and everything else that was clamouring for our attention (and money!). We just had to 'listen' to ourselves and to our babies; to connect with them authentically, and to meet them where they were. Like our ancestors have done for thousands of years. I know that this might not come as easily or as intuitively to all parents and this is in no way meant to diminish the very real challenges of becoming a mother, or father for that matter. Post-partum (post-natal) depression is real. Post-partum anxiety is real; as I experienced myself despite all the preparation and self-care. Parenting is hard enough without all the noise from outside influences. My husband and I have now learned to drown out the noise and to listen to ourselves and our child. Our instincts drive our decision making as parents and this is how it should be. How we, as humans, have evolved to be.
Anything else is just noise.
Alison Ford